Our Process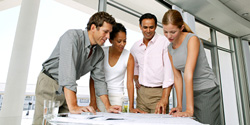 The Zaccaro Difference
Our two-step process will allow us to jointly discover if or to what extent we may be able to add value to your situation.
In the first step of our process we gather information and review any previous planning work you have already done. Then, we discuss what you are looking to accomplish on a going forward basis, as well as identifying any coordination gaps or planning opportunities that you may not have previously explored.
This allows us to create our written Engagement Proposal which we will review at our second meeting. The written Engagement Proposal will outline your current situation and the finacial goals and objectives you are looking to achieve. Next, we outline the areas that we feel we can add value to your situation, followed by discussing strategies our team can offer (without providing any specific solutions/services at this point, of course). Finally, we will discuss the nature of our relationship going forward.
There is no cost, no obligation to meet and we are certainly not high pressure! In short, this is like going to a doctor for a second opinion. One of two things will result from our engagement proposal process: Either we will provide you with a free second opinion/ validate the work that you have already done or we will come back to you with a list of areas that we feel we can add value. In either case, you win and are in total control!